The Pilbara is recognised as one of Australia's biodiversity hotspots, and is an area of high conservation value with a largely intact ecosystem that can be protected, and potentially enhanced, through focused and directed land management.
Last updated: 15th August, 2023 (under review)
Image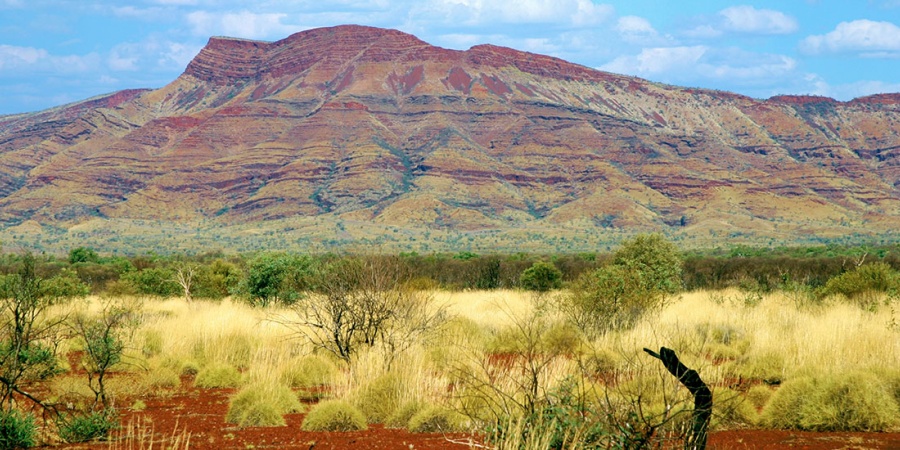 The Pilbara is as vast as it is ancient. The region, covering more than 17,800,000 hectares, is known for its spinifex-covered plains, rugged ranges, plunging gorges, tumbled iron-rich boulders and abundant wildlife.
It is a living landscape cared for by the traditional custodians for millennia. Aboriginal people retain strong links to and responsibility for Country, and they have a key role in protecting the Pilbara's cultural and natural heritage. The region supports a rich and diverse variety of plants and animals, is a centre of endemism, and despite its dry climate, has important rivers and wetlands.
Fortescue Marsh Management Strategy
The Fortescue Marsh is a large ephemeral wetland, located in the Fortescue River valley between the Chichester and Hamersley Ranges. The Fortescue Marsh (known as Manggurdu to the Banjima people and Martuyitha to the Nyiyaparli people) is a place of immense cultural significance and described as the 'heart' of the region's water system.
The Fortescue Marsh is recognised as a Key Biodiversity Area for its significance as habitat and feeding area for nationally significant numbers of waterbirds following inundation. The Fortescue Marsh and surrounds support habitat for several conservation significant fauna species, notably the night parrot, northern quoll, greater bilby and Pilbara olive python. The strategy area supports a high diversity of aquatic and terrestrial invertebrates and stygofauna.
The Fortescue Marsh Land System comprises an unusual flora assemblage dominated by Tecticornia species. Vegetation surrounding the marsh includes important communities of grove-intergrove mulga on alluvial soils and mixed species shrublands on calcrete and gilgai soils. Several important priority ecological communities (including the Marsh Land System which is Priority 1 ecological community) are found within and surrounding the Fortescue Marsh. Based on the area's unique and significant species and communities, the Fortescue Marsh will be considered for nomination as a Ramsar wetland.
Pilbara Conservation Strategy

The Pilbara Conservation Strategy outlines a landscape scale approach to biodiversity conservation across the Pilbara region. It provides strategic direction for conservation actions that may be funded from a variety of sources, including State and Commonwealth governments, natural resource management groups, non-government organisations, community groups and industry, including through offsets to counterbalance the residual impacts of resource and infrastructure projects. This strategy aims to deliver improved conservation outcomes through on-ground actions across a variety of tenures in collaboration with partners throughout the Pilbara region.
Pilbara Corridors project

DBCA's Parks and Wildlife Service has entered into a partnership with Rangelands NRM and Greening Australia to form Pilbara Corridors, a co-ordinated approach for addressing biodiversity threats in the Pilbara.
Pilbara Corridors aims to protect and improve existing native vegetation and stabilise critical ecosystems against the threat of inappropriate fire, invasive pests and weeds, promoting a stable environment for future generations.