Managing key invasive pest animals, weeds and plant diseases.
Last updated: 4th July, 2023
Image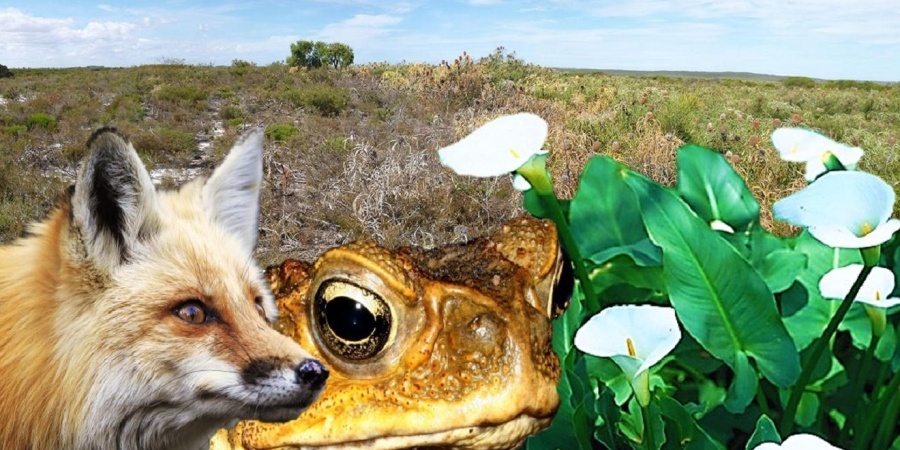 The Department of Biodiversity, Conservation and Attractions (DBCA) has three key programs which address the threat of invasive animals, weeds and plant diseases; the invasive animals program, the weeds program and the plant diseases program. Key threats and management programs are listed below.
Invasive animals
The invasive animals program works to inform, educate, manage, and monitor a number of invasive animals, managing Western Shield and the Cane Toad Strategy and working collaboratively with a range of stakeholders including community, Natural Resource Management (NRM) groups and State Government agencies.
Western Shield
Western Shield is DBCA's lead wildlife recovery program and one of the largest wildlife conservation programs in Australia. With a focus on threatened species, it aims to protect priority native animals across DBCA-managed lands and selected adjacent bushland in Western Australia. The program aims to protect and where possible rehabilitate populations and the diversity of native species through targeted fox and cat baiting programs.
Cane Toad Strategy
The Cane Toad Strategy for Western Australia aims to mitigate the impact of cane toads, understand the success of management actions, address knowledge gaps, and collaborate to work on new ideas and strategies for broader cane toad management across the State. The cane toad program under the strategy has been successful in partnering with universities, NRM groups and community to deliver a wide range of education and community information as well as implementing strategies to mitigate the impact of cane toads on native species like northern quolls and flood plain goannas through conditioned taste aversion. 
Feral Cat Strategy
The Western Australian Feral Cat Strategy 2023-2028 aims to conserve populations of threatened native fauna species through effective, adaptive, and humane actions to control feral cats. Feral cats pose a major and ongoing threat to WA's biodiversity, including threatened native species. The strategy is backed by a $7.6 million investment through the 2023-24 State Budget, which will enable research programs, conservation projects and landscape-scale management of feral cats in key conservation areas across WA, delivered by the DBCA in partnership with non-government organisations and community groups.