West Pilbara Turtle Program
The West Pilbara Turtle Program (WPTP) brings together industry, government and the community to monitor marine turtle nesting.
Last updated: 13th June, 2023
Image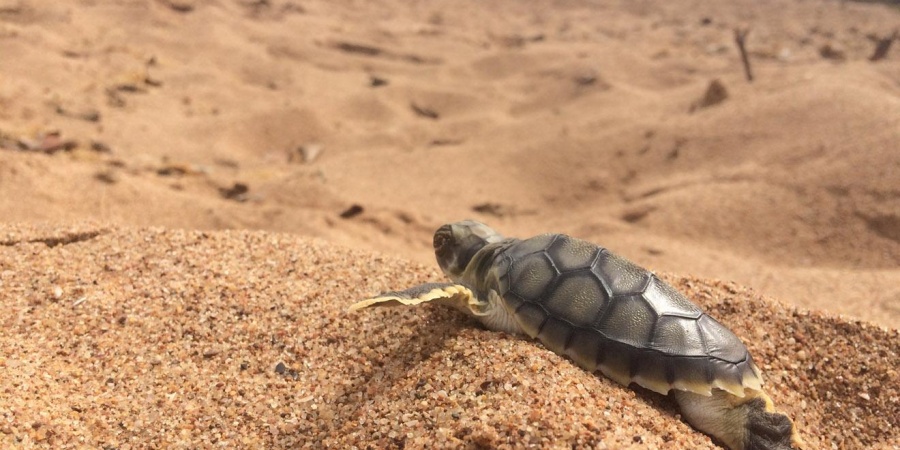 The West Pilbara Turtle Program is a partnership between the Department of Biodiversity, Conservation and Attractions Parks and Wildlife and Rio Tinto.
Purpose
The program aims to:
increase awareness of marine turtles in the West Pilbara area
monitor numbers of nesting marine turtles by identifying and counting tracks
determine nesting success
record evidence of impacts from human interference and feral animal predation on local beaches
The data collected by the program will improve knowledge on local turtle nesting beaches. This will assist the Parks and Wildlife Service and Rio Tinto to carry out informed decisions on management actions aimed at reducing negative impacts on breeding turtles in the area.
Why is the program so important?
Flatback turtles (Natator depressus), the main species monitored by the program are endemic to Australia and all known breeding sites of this species occur only on Australian beaches.
Flatback turtles are threatened and protected under Western Australian and Australian legislation.
Turtle nests on West Pilbara beaches need protection from human-induced threats associated with beach driving, campfires and being dug up. Foxes and dogs can also cause disturbance to nests.
Nesting turtles, eggs and hatchlings need protection from inappropriate interaction, artificial light sources and predation by feral animals.
The West Pilbara Turtle Program helps raise important awareness on turtle nesting in the area and reduces local threats to turtles.
Who is involved and what do they do?
The community-based program relies on volunteer members who are registered with the Department of Biodiversity, Conservation and Attractions and covered by the Department's insurance.
After completing a short training course, volunteers conduct daily beach monitoring of turtle nesting activity on a roster system.
Monitoring occurs at first light while tracks made during the night remain fresh and conditions are not too hot.
The duration of monitoring is dependent on overnight nesting activity and the number of tracks discovered. A typical track count usually takes between an hour and ninety minutes.
When does the program run?
In the Pilbara region, turtles generally nest during summer and the program runs beach monitoring activities each morning over periods in November, December and January.
Where does the monitoring occur?
The program monitors beaches near Wickham and Cleaverville including Bells Beach near Cape Lambert Port Operations.
How much time is involved?
The program appreciates any amount of time members can contribute.
Members can volunteer as much or as little time as they wish.
The program's roster system enables members to know monitoring dates well in advance.
Can't do track monitoring but still want to be involved?
There are many other ways you can contribute to the program:
attend events
offer billeted accommodation for non-local volunteers
assist those members without transportation
receive and share WPTP newsletters
support turtle conservation efforts and ethos
spread the word and help recruit more members
How do I register?
Contact the West Pilbara Turtle Program Coordinator on wptp@dbca.wa.gov.au or (08) 9182 2031.
Rio Tinto
Rio Tinto is proud to be the founding partner of the program, which has been running since the 2005/06 turtle nesting season.
The partnership has been renewed to June 2022, with Rio Tinto contributing significant funding towards the delivery of the program.