Evaluating the Aboriginal Ranger Program
A scientific analysis into the social outcomes of the State Government's Aboriginal Ranger Program.
Last updated: 30th March, 2023
Image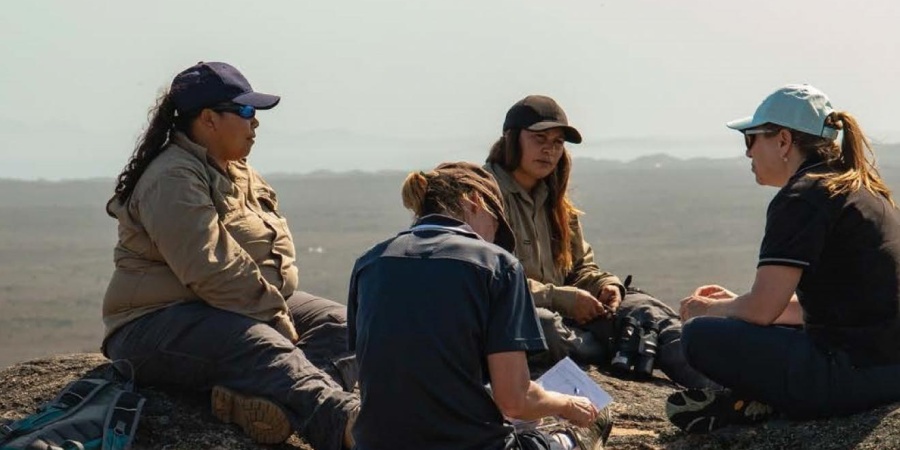 The State Government's Aboriginal Ranger Program is designed to create jobs, training and community development opportunities to empower Aboriginal people across Western Australia.
It is important to understand the social, economic, cultural and environmental impacts of the program. The Department of Biodiversity, Conservation and Attractions (DBCA) has therefore conducted a qualitative case study analysis of phase 1 of the program (which was a $20 million investment running from 2017–21).
DBCA social scientists Dr Amanda Smith and Dr Kate Rodger spent time in the field conducting interviews and observing participants, using case studies involving three projects and five ranger groups. These are:
Karajarri-Ngurrara Desert Fire and Biodiversity project, which involves two ranger groups – Karajarri Rangers based out of Bidyadanga and Ngurrara Rangers based out of Fitzroy Crossing.
Dampier Peninsula Women Rangers Monsoon Vine Thicket Recovery Program, which involves two women ranger groups – Nyul Nyul Rangers based out of Beagle Bay and Bardi Jawi Oorany Rangers based at Ardyaloon (One Arm Point) on the Dampier Peninsula.
Esperance Tjaltjraak Ranger Program – Affirming Connection to Our Country, Our Boodja based in Esperance.
The social outcomes evaluation found the ARP is helping empower Aboriginal people and families through employment and training on country, allowing for connection to country and culture. The study found the positive impacts include increases in self-confidence, pride, gender equality and improved mental and physical health. There have also been reported improvements in training and education outcomes and better career prospects, as well as intergenerational knowledge transfer.
The Empowering people, culture and connection to country report is also available in the downloads section below.
"It has been a long time coming, this ranger program, and we have been very privileged and honoured to be chosen to be able to carry out this program. It is just humbling to see after many years of fighting I can say to the old fellas now that our journey is just starting to begin through the employment of our rangers" (Cultural Advisor/Elder).
"Personally, it makes me feel good and a sense of being somewhere, a sense of place. Got a lot of connection… it feels humble and good that I'm out protecting and caring for country that my grandmother and pops fought hard to get back. Makes me feel sense of belonging and that I'm accomplishing something" (ARP Funded Ranger).
A Social Return on Investment (SROI) was undertaken with the Tjaltjraak Ranger Program to measure the economic return for the 2018 one-year education and training grant for 12 trainee rangers. This resulted in a SROI ratio of 3:1 meaning for every $1 invested, approximately $3 of social, economic, cultural and environmental value was created. More detail is available on pages 20 and 21 of the evaluation report.
Evaluation of phase 2 of the program is underway. This expands on previous work and includes exploring the evolution of ranger programs including identifying critical success factors and challenges faced for the establishment of ranger programs.
Empowering women and role models for community – Bardi Jawi/Nyul Nyul Rangers
Connection to Boodja; a healing process – Tjaltjraak Rangers
Capacity building and personal development – Karajarri Rangers
 Empowering people, culture and connection to country - Ngurrara Rangers
Contact us 
Social Science Coordinator
Phone: (08) 9219 8225