Purnululu National Park World Heritage Area
The Bungle Bungle Range in Purnululu National Park is one of WA's most striking landmarks.
Last updated: 2nd June, 2023
Image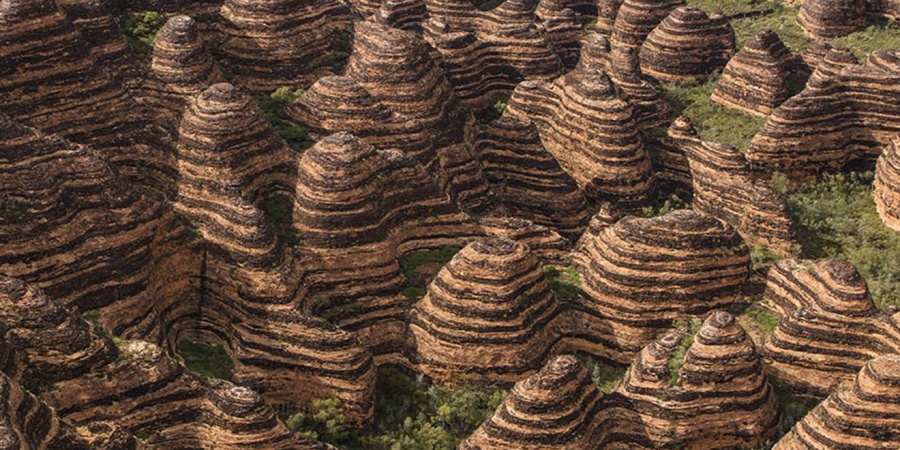 The World Heritage Listed area for Purnululu National Park (also known as the Bungle Bungles) is about 240,000 hectares. It is located 300km south of the small regional town of Kununurra and 150 kilometres north-east of Halls Creek.
Purnululu National Park was inscribed in 2003 under two of the natural World Heritage Outstanding Universal Value criteria:
containing areas of incredible natural beauty
for its outstanding geological value
The following features are representative of these criteria:
Geology
The Bungle Bungle range contains the most outstanding example of cone karst in sandstones anywhere in the world and owes its existence and uniqueness to several interacting geological, biological, erosional and climatic phenomena.
The Bungle Bungle range is renowned for its striking banded domes. They are made of sandstone deposited about 360 million years ago. Erosion by creek, rivers and weathering in the past 20 million years has carved out these domes, along with spectacular chasms and gorges creating a surreal landscape.
The domes' striking orange and grey bands are caused by the presence of cyanobacteria, which grows on layers of sandstone where moisture accumulates. The orange bands are oxidised iron compounds that have dried out too quickly for the cyanobacteria to grow.
Wildlife
More than 600 plant species have been recorded in Purnululu National Park World Heritage Area, some of which are unique to the park. Typical tree species include bloodwoods and snappy gums. There are 13 species of spinifex – more than anywhere else in Australia. Sheltered gorges in the park protect the most southerly patches of rainforest found in the East Kimberley region.
More than 149 bird, 85 reptile, 32 native mammal and 12 frog species live in the park. Birds such as honeyeaters, doves, wood swallows and finches are in abundance. More elusive species include the white-quilled rock pigeon and the Australian bustard. There is at least one endemic lizard species, Lerista bungle bungle, a very rare small skink.
Aboriginal connection to landscape
Local Aboriginal people maintain a strong connection to this ancient landscape, a continual connection and association expressed through story, song, art and visits. People continue to use resources that have sustained their lives for thousands of years and work closely with government to ensure cultural obligations towards looking after the landscape are continued.
More information
Download the map of the Purnululu National Park World Heritage Area below
Purnululu World Heritage Area Advisory Committee
Each World Heritage area is overseen by a State Cabinet-appointed advisory committee. These committees provide advice to managing agencies and State and Australian Government ministers to assist in protecting the Outstanding Universal Value of each area.
Find out more about the World Heritage area advisory committees.