Resilient Reefs is a global initiative to support coral reefs and the communities that depend on them to adapt to climate change and local threats.
Last updated: 2nd June, 2023
Image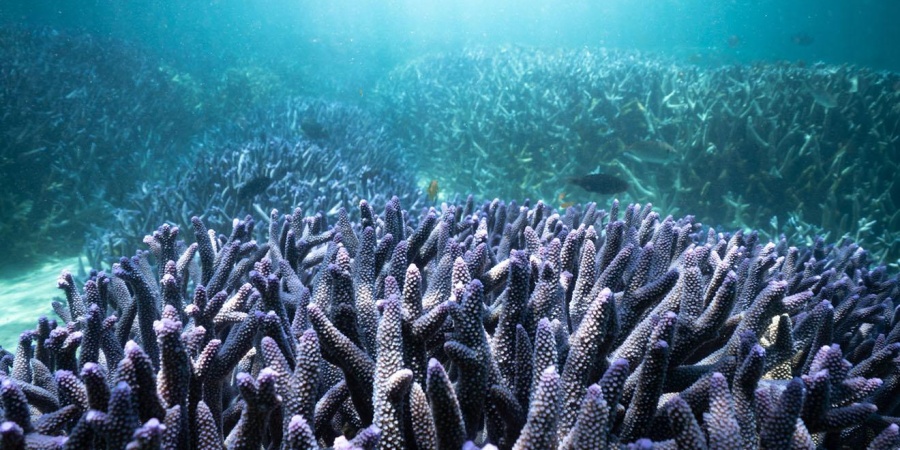 Coral reefs are critically important ecosystems for the planet. Occupying less than one percent of the ocean floor, they support 25 per cent of all marine life and the livelihoods and wellbeing of almost one billion people. Here at Ningaloo, the Reef and coastline contribute $110 million annually to the local economy and support over 1000 jobs. But, right now, 75% of the planet's coral reefs are under threat from local stresses (such as overfishing, pollution and development) and climate change.
Resilient Reefs is a three-year program to combat the effects of climate change and local threats at five World Heritage-listed coral reefs around the world. It brings bringing together local communities, reef managers and global resilience experts. By building resilience, we strengthen the ability of reef communities to recover quickly from disturbances, adapt to changing circumstances and plan for an uncertain future.
An introduction to resilience at Ningaloo
Resilient Reefs is being delivered in Ningaloo by the Department of Biodiversity, Conservation and Attractions (DBCA).
On this page, you'll find more information on what resilience means, the current state of resilience at Ningaloo and some of the challenges we may face in the future. The Resilient Reefs Fact Sheet, which will help you understand the state of resilience of the ecosystem, community and governance systems at Ningaloo, and the Resilient Reefs initiative brochure are available for download at the bottom of this page. You can also listen to an introduction to the program by DBCA's Chief Resilience Officer.
Ningaloo Economic Contribution Study
DBCA, through the Resilient Reefs initiative, has commissioned an Economic Contribution Study of the direct and indirect contribution provided by the Ningaloo Coast to the local and regional economy. This Economic Contribution Study, undertaken by Deloitte Access Economics, will inform future management planning and assist industry, government, the scientific community and the wider public to fully understand the contribution of Ningaloo to the economy and society.
Download the Ningaloo Economic Contribution Study below.
RegenNarration Podcast
Listen to the Marine Park Coordinator and Chief Resilience Officer discuss resilience at Ningaloo.
Resilience is the capacity of coral reef ecosystems, and the individuals, businesses and communities that depend upon them, to survive, adapt and thrive in the face of the stresses and shocks. Healthy reef ecosystems depend on people and people depend on healthy reef ecosystems - Resilient Reefs focusses not only on ecological resilience, but also the resilience of the community that relies upon the reef for income, recreation and enjoyment.
Is this just about the reef/environment?
No! We recognise that healthy reef ecosystems depend on people and people depend on healthy reef ecosystems. Therefore, Resilient Reefs seeks to strengthen both the reef and the community - looking at issues such as livelihood diversification, increased community engagement in management, more adaptive management practices and developing a culture of innovation and learning
Is this project just about climate change?
Climate change is one of the key threats facing coral reefs around the world, and the impacts of coral bleaching, ocean acidification and changing environmental conditions are predicted to affect Ningaloo in coming years too. However, resilience is about more than just climate change - it's about strengthening the ecosystem and the community to a wide range of shocks and stresses. This could include threats from coastline degradation, loss of jobs and income due to tourism downturns, plastic or overuse/physical damage to the area due to high visitation. Part of this process is understanding what the community sees as the key threats to the Reef, coastline and community, and how to address these threats holistically.
What is the current state of the Reef? What changes are we seeing?
Due to its lack of development and strong management frameworks, Ningaloo has fewer local pressures compared to many other reefs around Australia and the world. In many respects, it is in very good condition. Complex and diverse coral, seagrass and mangrove habitats support high levels of abundance and diversity of both tropical and temperate fish species. Populations of iconic species (like whales, whale sharks, dugongs and adult turtles) are currently stable or increasing, as far as we know. And there is a high diversity and abundance of herbivores which help maintain the balance between corals and macroalgae, and can assist in recovery of corals after disturbance.
However, we are noticing changes on the Reef. These include:
Seawater temperatures have increased by 0.8-1.0°C over the last 32 years.
Coral cover seems to be declining: Since 2010, coralcover has declined at some monitoring sites along the reef, from approximately 30-40% to <20% cover in 2015-2018. This decline is correlated with above average water temperatures and marine heatwave events related to climate change. Regionally, 75% of WA reefs are currently at (or near) their lowest recorded coral cover.
Coral bleaching is becoming more frequent: In 2011, a marine heatwave and three cyclones caused severe (80 to 95%) declines in coral cover occurred at Bundegi, while in 2012/13, Bundegi and the eastern Muirons experienced bleaching.
Ningaloo currently has low occurrences of coral disease and Drupella (a snail which feeds on coral), though outbreaks have previously caused significant damage to parts of the reef.
Trends in fish stock are variable and uncertain: local declines in the abundance of corallivorous fishes across the Ningaloo Marine Park since 2011 are correlated with decreases in coral cover. Estimations of fish species that are targeted by recreational anglers vary greatly, with some studies finding evidence of stable, or even increasing populations, and others finding overall declines in some species.
The abundance of some species is changing as environmental conditions change: As waters warm, there are declines in some species of fish and rock lobsters, which may be at the northern limit of their natural range. In the Exmouth Gulf, the abundance of Western King Prawns has declined substantially, and Blue Endeavour Prawns are more common, probably due to temperature preferences. There has also been a relative decline in Acroporid corals (branching and plate corals) compared with other species of coral (such as massive or encrusting corals).
You can find out more about the current state of the Reef, and the changes which may impact it in the future, in the fact sheets below.
Will climate change really affect Ningaloo Reef?
From the indications we have from our marine monitoring programs, changing temperature is already affecting the reef, with changing abundance and distribution of some species and a decline in coral cover which appears to be correlated with increasing ocean temperature. The best available science predicts that by 2041 (just 20 years away), Ningaloo will experience significant bleaching twice every decade - given that it takes the Reef around ten years to recover from disturbances, this rate of bleaching is beyond the recovery potential of the reef. By 2049, bleaching is expected to occur annually. There are other impacts of climate change, such as increased severity of cyclones, sea level rise, acidification and increasing air temperatures which will impact on the Reef, other ecosystems and the community - you can find out more in the infographic below and fact sheets available for download at the bottom of this page.
Has Ningaloo Reef bleached before?
Yes! While the cooler ocean currents and the cooling effect of cyclones have protected Ningaloo from mass bleaching events like those experienced in the northern WA reefs and the Great Barrier Reef recently, Ningaloo has experienced significant bleaching around Bundegi and the Muiron Islands in both 2011 and 2013. The best available science suggests that as waters warm, bleaching events will become more frequent and more severe. You can find out more about the impacts of bleaching and climate change in the fact sheets above.
What is the Resilient Reefs Working Group?
The Ningaloo Resilient Reefs Working Group is a consultative body made up of representatives of the community which provides strategic advice to the Resilient Reefs program on the development of the Resilience Strategy, as well as providing guidance in the procedural aspects of community stakeholder engagement. The membership is designed to be diverse and representative of key community stakeholder groups and governance agencies with responsibilities for management of the reef and the broader community.
The members of the Working Group are:
Shire of Exmouth – Cr Anne McCarrol and Cr Ben Dixon (proxy)
Shire of Carnarvon – Paul Lees and Cr Kane Simpson
Gascoyne Development Commission – Tym Duncanson
Chamber of Commerce – David Gillespie
Cape Conservation Group - Julie Waller
Department of Fisheries - Renee Hilditch
Traditional Owners of the Ningaloo Coast – Hazel Walgar
Department of Biodiversity, Conservation and Attractions (DBCA) – Peter Barnes
Tourism industry (Exmouth and Coral Bay) – Kirsten Sheppard, Vikki Hoff
Ningaloo Coast World Heritage Advisory Committee – Russ Babcock
Exmouth School – Susie Bedford
Project Partners
Resilient Reefs is a collaboration between the Great Barrier Reef Foundation, UNESCO World Heritage Marine Programme, The Nature Conservancy, Columbia University's Center for Resilient Cities and Landscapes, Resilient Cities Catalyst, AECOM and is enabled by the BHP Foundation. The initiative is being delivered in Ningaloo by the Department of Biodiversity, Conservation and Attractions.