Fire ecology of obligate-seeder eucalypt woodlands in the Great Western Woodlands
Effects of fire in the world's largest temperate woodland.
Last updated: 23rd October, 2023
Image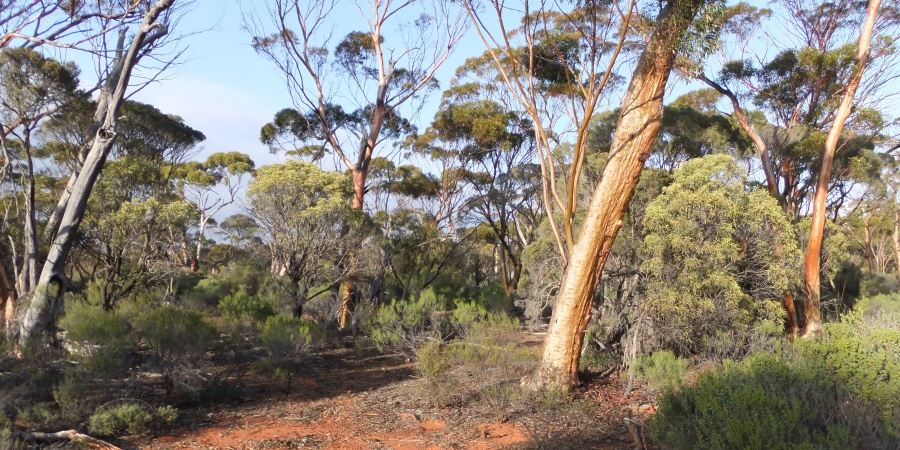 Program: Fire Science; Plant Science and Herbarium; Remote Sensing and Spatial Analysis
About the research project
The Great Western Woodlands (GWW) is an internationally significant area with high biological and cultural richness. This 16 million hectare region contains the world's largest and most intact contiguous temperate woodland.
Uniquely for the dry to semi-arid climate in which they occur, the eucalypt woodlands of the GWW are dominated by species that are killed by fire (obligate-seeders), regenerating over multi-century timeframes from canopy seed banks.
This research project addresses knowledge gaps concerning the ecological consequences of fires, time scales of recovery, and options for fire management, in the context of multiple large (>100,000 ha) bushfires that have recently impacted eucalypt woodlands in the region.
Specific aims are to:
Robustly estimate stand time since fire in gimlet (Eucalyptus salubris) woodlands that have not been burnt during the period covered by remotely-sensed imagery, allowing timeframes of woodland recovery and the scale of recent bushfires to be placed in context
Determine the effects of time since fire on the assembly and recovery of gimlet woodlands, including plant and animal community composition, development of ecosystem structure and carbon dynamics
Produce a spatially explicit representation of high conservation value long-unburnt woodlands through linkage of plot data on vegetation structure with remotely-sensed imagery
The obligate-seeder eucalypt woodlands of the GWW have vegetation dynamics driven by rare, stand-replacing fires. Post-fire vegetation and animal community succession occurs over multi-century timeframes, with high conservation values associated with woodlands remaining unburnt for 200 years or more. Obligate-seeder eucalypt woodlands exhibit a vulnerability to decreases in intervals between fires and increases in fire extent, demonstrating the value of avoiding fire in mature woodlands to maximise future fire management options. Spatial data on multi-century woodland age classes provides the basis for fire managers to plan fire mitigation and suppression actions to minimise loss of mature woodlands in bushfires.
The project is ongoing with a future focus on using vegetation structure and biomass data to parameterise a model of changes in carbon stocks with time since fire. These data will potentially support development of a carbon farming methodology applicable to obligate-seeder eucalypt woodlands.
| Carl Gosper | Katherine Zdunic |
| --- | --- |
| Program Leader, Plant Science and Herbarium | Program Leader, Remote Sensing and Spatial Analysis |
Carl Gosper
Program Leader, Plant Science and Herbarium
carl.gosper@dbca.wa.gov.au