Alexandrium algal blooms in the Swan and Canning rivers
Alexandrium is a serious public health issue. Don't eat mussels caught in the Swan or Canning rivers, and remove the head, guts (mustard) and gills of crabs before freezing, cooking or eating.
Last updated: 6th June, 2023
Image
Alexandrium is a group of microalgae that has been previously detected at elevated levels in the Swan and Canning rivers.
It has impacted waterways and fisheries around the globe, and is expected to be an annual occurrence in the Swan and Canning rivers.
These algae can produce Paralytic Shellfish Toxins (PSTs) that can impact mussels and crabs. At worst, poisoning by PSTs can be fatal to humans and there is no antidote, with treatment being supportive care and artificial respiration. A meal of 3-4 whole crabs can cause symptoms.
How can I reduce my risk?
To reduce your risk of ingesting PSTs:
do not eat mussels from the Swan and Canning rivers
clean any blue swimmer crabs caught in the Swan and Canning rivers by removing the head, guts, mustard and gills prior to freezing, cooking and eating
Swimming, water-skiing and boating is OK, but as a general rule swimming should be avoided in areas of discoloured water. It is also safe for dogs to swim in the water. The public is advised to pay attention to algal bloom caution and public health warning signs displayed in the Swan Canning Riverpark and to watch out for Alexandrium updates in the media.
How can I find more information?
The Department of Biodiversity, Conservation and Attractions (DBCA) and the Department of Primary Industries and Regional Development (DPIRD) have developed an ongoing Alexandrium education program to alert the public and recreational fishers to the dangers of PSTs.
This includes an educational video clearly showing how to clean blue swimmer crabs.
More information is available the following publications, which are available for download at the bottom of this page:
'How to clean blue swimmer crabs' brochure
Frequently asked questions
Landscope article - 'Blooming surprise: toxic algal blooms in Perth rivers'
Look out for new 'harmful algae' caution signs that have been installed at key Swan Canning Riverpark locations including jetties, traffic bridges, boat ramps and popular fishing locations.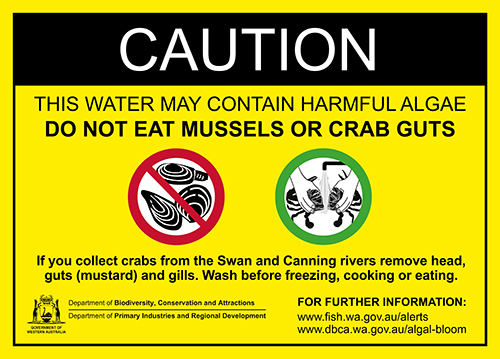 What has happened in the Swan and Canning rivers?
Since early 2019, two large Alexandrium blooms have occurred in the Swan and Canning rivers - one in the Swan River between February and May 2019, and another in the Swan and Canning rivers that persisted for 18 weeks from December 2019 until April 2020.
During this event PST levels in river mussels and crab guts exceeded the safe human consumption guideline levels (Australia New Zealand Food Standards Code).
An interagency Incident Management Team involving DBCA, DPIRD and the Department of Health has been established to oversee the Alexandriumbloom management response and communications.
DBCA monitor algae levels weekly in the Swan and Canning rivers and have tested mussels, crabs and fish for PSTs to help inform public health advice.
DBCA and DPIRD have provided stakeholder briefings and kept river users and the public well informed regarding Alexandriumand its impacts.
In the past, DBCA has investigated different approaches to control algal blooms. Each type of algae is unique, and DBCA, DoH and DPIRD are funding research to investigate approaches to mitigate and control Alexandrium. DBCA and its partners use constructed wetlands, foreshore plantings, and different landcare initiatives in the catchment. These help reduce nutrients such as nitrogen and phosphorus entering our rivers. Fewer nutrients in the water means less nutrients for algae and fewer blooms.
Alexandrium has not been recorded in the Swan Canning Estuary since December 2020. However, Alexandrium forms cysts which remain in sediments and provide a source from which they can multiply when environmental conditions are suitable.